Seconda parte del Models Update di marzo, spezzato perchè altrimenti troppo lungo...
... in realtà m'ero rotto i cocones di scrivere e così ho lasciato a metà il lavoro, frase-metafora di tutta la mia vita... ;)
L'estate sembra lontana, ma la vostra panzetta vi sta sabotando la mente: per la prova costume è già fin troppo tardi, per cui vediamo se riesco a farvi sentire in colpa...
Primo update

della seconda parte del primo Models Update... Scusate, non ho resistito... Dicevo, primo update dedicato all'estate, appunto, ai costumi ed alla lycra: WOWOW ME! ci presenta la campagna per la ES Collection 2013:
Pacchi, contropacchi ed aderenze per un servizio targato Joan Crisol!

ES Collection takes us to the island of El Hierro for their 2013 swimwear campaign. Featuring models Jose Eduardo Moreno, Adrián García, Ayman Siblini and Acorán Montesdeoca, photographed by Joan Crisol.
Tocalò, tocalò, tocalò... Sentite la musica? :P
Ovviamente c'è anche il video! Preparatevi...
secondo update

dedicato ad una celebrità, l'icona della serie Teen Wolf Cheyenne Jackson!
MEXILE

si concentra sulla vocazione

canora

del bell'attore e scrive:
Cheyenne Jackson, opens up about his struggle with coming out and how his love for music helped him through a difficult childhood…

"I never felt further away from who I really am," the 35-year-old says of growing up in a conservative Christian town.

Jackson struggled with being gay because of his religion but finally came out of the closet to his family when he was 19."It was a difficult time," say his mother, Sherri. "It can be real divisive, but I feel we weathered it very well. I feel I've become more openhearted, because otherwise the world can be black and white, and it isn't. It's good to grow."Jackson, who's starred on Broadway in musicals like All Shook Up and Xanadu, says music served as his escape."Singing was everything to me," he says. "It gave me hope."
terzo update da VULTURE che si diverte a cartoonizzare i modelli: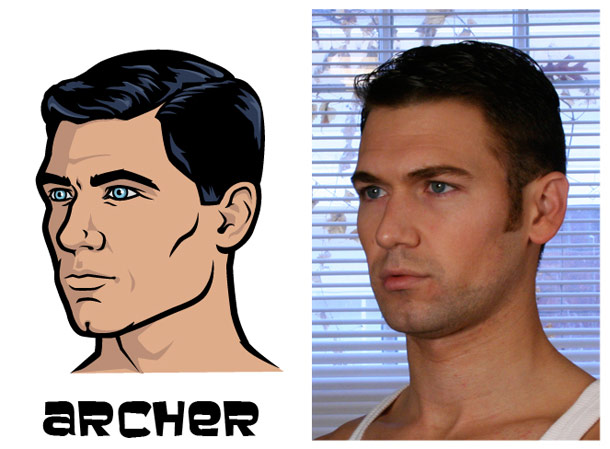 CHARACTER: Sterling Archer, superspy MODEL: Jason Fitzgerald, professional photographer/former model VOICE ACTOR: H. Jon Benjamin Out of all of our characters, Archer looks the least like the actor voicing him. H. Jon has some funny things to say about how people tell him that the show is ruined for them once they've seen his face. We even did a video based around this idea for the Eugene Mirman Comedy Festival. The gist of it was that Archer is in a terrible accident and when he wakes up in a hospital bed, his roguish good looks are gone. He looks like the real-life H. Jon, and his world is irrevocably changed.Jason Fitzgerald has gotten the most mileage out of modeling for us. His friends even use his casting on the show as a pick-up line at bars. Archer makes the best wingman, even when he's not there. Just knowing him is a panty-dropper. Jason was even asked to audition to play Archer for a convention once because he looks so much like him.
quarto update

dedicato a Coquichulo Images ed al video RRReD, che tradotto in italiano potrebbe suonare "Ma quant'è bbello spennellare muscoli d'acciaio!!!"... Look:


More MODELS:
Referenze: