Nelle sale americane è già uscito ed ha fatto il botto, rilanciando i film ispirati agli eroi DC Comics (Warner) che da troppo tempo subiscono lo strapotere Marvel (Walt Disney)...
...
S
tiamo ovviamente parlando di
Man of Steel
,
reboot
della celebre saga di
Superman
, riavviata da zero dopo l'insuccesso di
Superman Returns
del
2006
con lo sfortunello
Brandon Routh...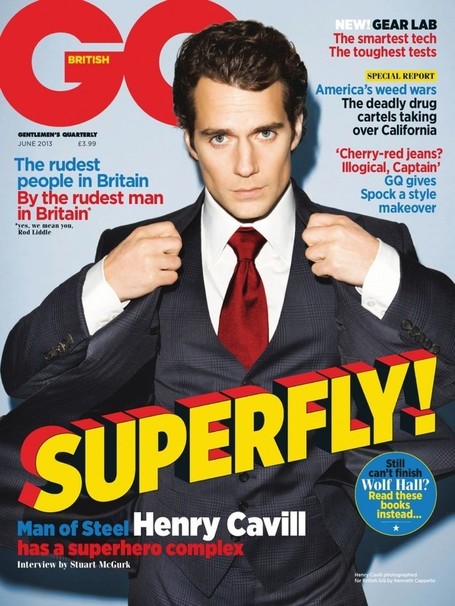 Henry Cavill (sopra) ha spodestato Brandon Routh (sotto) dal trono di Krypton
Henry Cavill, classe '83 e made in Britain, dopo il successo nel 2011 del kolossal Immortals che vedeva Mickey Rourke nel ruolo del cattivissimo re Iperione.
photos by Just Jared
Gigantesco, muscoloso e con un viso da bravo ragazzo appena uscito dal college, deve aver fatto breccia nel cu... ore del regista Zack Snyder.
confronto impietoso con l'indimenticabile Christopher Reeve
Il successo avuto in America ha già messo in moto il sequel e noi non abbiamo che da essere felici di tutte queste tutine super aderenti in lycra che gironzolano per i cinema.
Altro bono presente nel film è Russel Crowe (Il Gladiatore) nel ruolo di Jor-El, padre di Kal-El/Clark Kent, ruolo che già fu del compianto Marlon Brando. E qui mi vien da dire: ma non si poteva lasciare Brando?!?
O Roma o morteee!!! Ops, mi sbagliaj...
:/
Vieni da mammà, piccirillo...
Il successo al botteghino spinge tutti i magazine a parlarne: dedicate a

Men of Steel

le copertine dei maggiori magazine internazionali:
Doppia uscita con cover da collezione per la Bibbia del cinematografo

EMPIRE Mag

e per il must dello stile DETAILS Mag:
E così via, alla velocità della luce...
Non ancora convinti?
Ecco il
trailer
:
More:
http://sco.lt/5RXAsz
More Celebs:
http://cockscelebrities.blogspot.it/
http://cocks-celebrities.tumblr.com/